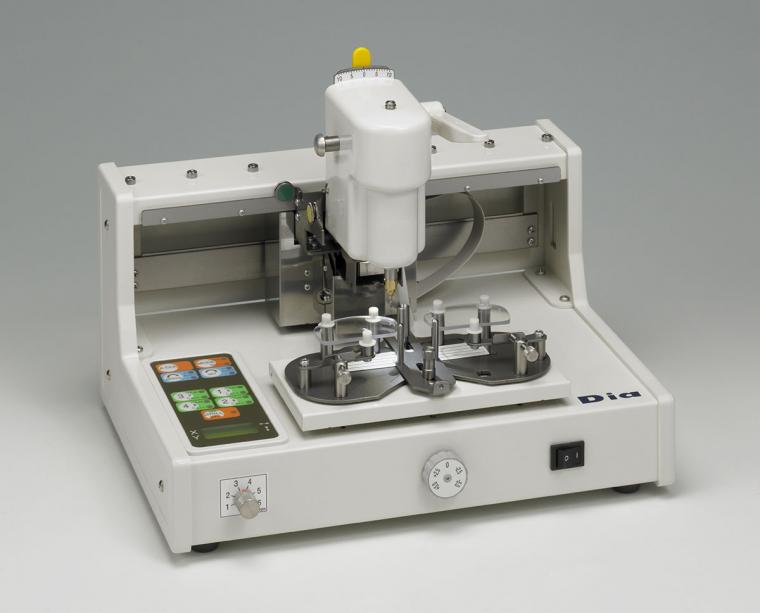 The best solution for fast and precisely processing rimless drill mounts!
Digitally captures and memorizes hole and notch locations on the demo lenses then transfers them to the final patient lenses simply and accurately.
Simplified operation for any shape hole or notch on any shape lens.
Hole positions of demo lenses can be simply and accurately measured and stored in a computer memory by pressing one button then called up for drilling the final patient lenses.
8 positions can be memorized at once.
Allows drilling a customized lens with shape modification
High-speed, high-damping and non-runout drill spindle produces the finest of finish of hole and notches.
Meets various styles of hole and notches.
A wide variety of extra drill bits, router bits ( notching bits) and end-mill bits is available from our optional accessories.
A unique mounting tool changes tool bits quick and safe in 10 seconds or less!
1/2 hole hand reamer included. This handy tool allows for fast and simple fine tuning adjustments of the actual frame to lens fit.
Useful line marker is also standard! Helps you draw an accurate horizontal line on any type of lens simply.
Specifications
Possible diameter of tooling
0.8 ~2.6mm (3.0mm for optional end-mill)
Spindle Speed
0~6400 RPM (variable)
Power Requirements
100~240V 50/60Hz AC, 22W
Dimensions/Weight
300(W) x 225(D) x250(H) mm/5.0kg
Accessories
Standard accessories including AC/DC power adapter, drill bits, 1/2-hole hand reamer, line marker, tools, etc